Connect with me!
Piano Lessons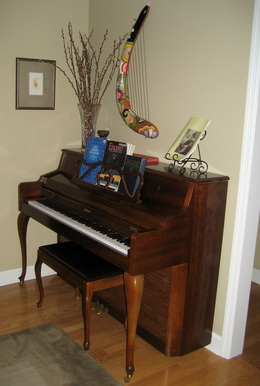 Sarah's Home Studio
In addition to harp lessons, Dr. Crocker also offers beginning to intermediate piano lessons in her home studio.
Piano lessons include instruction in technique, standard solo repertoire, musicality, music history, music theory, and ear training to students of all ages. Sarah recommends weekly lessons at her home studio to encourage consistency and discipline, but other arrangements can be made for students traveling long distances for lessons. Depending on the student's age and level, lessons can last thirty minutes, forty-five minutes, or one hour. Although previous musical study can certainly aid in a student's advancement, it is not a requirement.
The purchase of exercise and repertoire books will also be required.
If you are interested in lessons and pricing information, wish to schedule a free introductory lesson, or have any other questions, please
contact
Sarah.
---